An obituary in the New York Times reported, "Looking back at his career, Mr. Rustin, a Quaker, once wrote: 'The principal factors which influenced my life are 1) nonviolent tactics; 2) constitutional means; 3) democratic procedures; 4) respect for human personality; 5) a belief that all people are one.'"
A man who has been mostly overlooked by history, Bayard Rustin was an activist and strategist and is widely regarded as one of the most influential men behind Dr. Martin Luther King, Jr.'s image as a man of peace and nonviolence. Bayard was also one of the chief organizers behind the 1963 March on Washington. And even as he raised his voice against segregation and racial injustices, Bayard Rustin also spoke against injustices against women and gays, the latter was especially important since Bayard himself had been arrested for the charge of sodomy, since he himself was a gay man, an openly, black gay man, at a time when such a thing was illegal and unheard of.
Bayard is inspirational to me on many fronts. Not only because of what he stood for, not only because he lifted up the arms of Dr. King, Jr. when he inspired much of Dr. King's thoughts on nonviolence, but because he never lost sight of his truth, and he lived it openly and without shame.
Please help me honor Bayard Rustin.
****
A master strategist and tireless activist, Bayard Rustin is best remembered as the organizer of the 1963 March on Washington, one of the largest nonviolent protests ever held in the United States. He brought Gandhi's protest techniques to the American civil rights movement, and helped mold Martin Luther King, Jr. into an international symbol of peace and nonviolence.
Despite these achievements, Rustin was silenced, threatened, arrested, beaten, imprisoned and fired from important leadership positions, largely because he was an openly gay man in a fiercely homophobic era.
To be afraid is to behave as if the truth were not true.
Bayard Rustin
Bayard Rustin was an American leader in social movements for civil rights, socialism, pacifism and non-violence, and gay rights.
Rustin was born in West Chester, Pennsylvania. He was raised by his maternal grandparents, Janifer and Julia Rustin. Julia Rustin was a Quaker, although she attended her husband's African Methodist Episcopal Church. She was also a member of the National Association for the Advancement of Colored People (NAACP). NAACP leaders such as W.E.B. Du Bois and James Weldon Johnson were frequent guests in the Rustin home. With these influences in his early life, in his youth Rustin campaigned against racially discriminatory Jim Crow laws.
In 1932, Rustin entered Wilberforce University, a historically black college (HBCU) in Ohio operated by the AME Church. As a student at Wilberforce, Rustin was active in a number of campus organizations, including the Omega Psi Phi Fraternity. He left Wilberforce in 1936 before taking his final exams, and later attended Cheyney State Teachers College (now Cheyney University of Pennsylvania).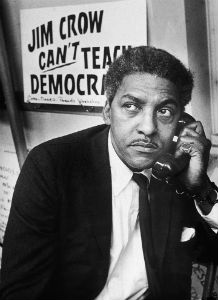 After completing an activist training program conducted by the American Friends Service Committee (AFSC), Rustin moved to Harlem in 1937 and began studying at City College of New York. There he became involved in efforts to defend and free the Scottsboro Boys, nine young black men in Alabama who were accused of raping two white women. He joined the Young Communist League in 1936. Soon after coming to New York City, he became a member of Fifteenth Street Meeting of the Religious Society of Friends (Quakers).
When an individual is protesting society's refusal to acknowledge his dignity as a human being, his very act of protest confers dignity on him.
Bayard Rustin
Rustin was an accomplished tenor vocalist, an asset which earned him admissions to both Wilberforce University and Cheyney State Teachers College with music scholarships. In 1939, he was in the chorus of a short-lived musical that starred Paul Robeson. Blues singer Josh White was also a cast member, and later invited Rustin to join his band, "Josh White and the Carolinians". This gave Rustin the opportunity to become a regular performer at the Café Society nightclub in Greenwich Village, widening his social and intellectual contacts. A few albums on Fellowship Records featuring his singing were produced from the 1950s through the 1970s. He earned a living as a nightclub and stage singer, and continued activism for civil rights.
In the pacifist Fellowship of Reconciliation (FOR), Rustin practiced nonviolence. He was a leading activist of the early 1947–1955 civil-rights movement, helping to initiate a 1947 Freedom Ride to challenge with civil disobedience racial segregation on interstate busing.
Rustin and George Houser organized the Journey of Reconciliation in 1947. This was the first of the Freedom Rides to test the ruling of the Supreme Court of the United States that banned racial discrimination in interstate travel (Irene Morgan v. Commonwealth of Virginia). Rustin and CORE executive secretary Houser recruited a team of fourteen men, divided equally by race, to ride in pairs through Virginia, North Carolina, Tennessee, and Kentucky. The NAACP opposed CORE's Gandhian tactics as too meek. Participants in the Journey of Reconciliation were arrested several times. Arrested with Jewish activist Igal Roodenko, Rustin served twenty-two days on a chain gang in North Carolina for violating Jim Crow laws regarding segregated seating on public transportation.
Surely, I must at all times attempt to obey the law of the state. But when the will of God and the will of the state conflict, I am compelled to follow the will of God.
Bayard Rustin
In 1948, Rustin traveled to India to learn techniques of nonviolent civil resistance directly from the leaders of the Gandhian movement. The conference had been organized before Gandhi's assassination earlier that year. Between 1947 and 1952, Rustin met with leaders of Ghana's and Nigeria's independence movements.
In 1951, he formed the Committee to Support South African Resistance, which later became the American Committee on Africa.
Rustin was arrested in Pasadena, California, in 1953 for homosexual activity with two other men in a parked car. Originally charged with vagrancy and lewd conduct, he pleaded guilty to a single, lesser charge of "sex perversion" (as consensual sodomy was officially referred to in California then) and served 60 days in jail. This was the first time that his homosexuality had come to public attention. He had been and remained candid about his sexuality, although homosexuality was still criminalized throughout the United States. After his conviction, he was fired from FOR. He became the executive secretary of the War Resisters League.
Rustin served as an unidentified member of the American Friends Service Committee's task force to write "Speak Truth to Power: A Quaker Search for an Alternative to Violence," published in 1955. This was one of the most influential and widely commented upon pacifist essays in the United States. Rustin had wanted to keep his participation quiet, as he believed that his known sexual orientation would be used by critics as an excuse to compromise the 71-page pamphlet when it was published. It analyzed the Cold War and the American response to it, and recommended non-violent solutions.
If we desire a society of peace, then we cannot achieve such a society through violence. If we desire a society without discrimination, then we must not discriminate against anyone in the process of building this society. If we desire a society that is democratic, then democracy must become a means as well as an end.
Bayard Rustin
Rustin took leave from the War Resisters League in 1956 to advise Martin Luther King Jr. on Gandhian tactics. King was organizing the public transportation boycott in Montgomery, Alabama, known as the Montgomery Bus Boycott. According to Rustin, "I think it's fair to say that Dr. King's view of non-violent tactics was almost non-existent when the boycott began. In other words, Dr. King was permitting himself and his children and his home to be protected by guns." Rustin convinced King to abandon the armed protection, including a personal handgun.
The following year, Rustin and King began organizing the Southern Christian Leadership Conference (SCLC). Many African-American leaders were concerned that Rustin's sexual orientation and past Communist membership would undermine support for the civil rights movement. U.S. Representative Adam Clayton Powell, Jr., who was a member of the SCLC's board, forced Rustin's resignation from the SCLC in 1960 by threatening to discuss Rustin's morals charge in Congress. Although Rustin was open about his sexual orientation and his conviction was a matter of public record, the events had not been discussed widely outside the civil rights leadership.
He recognized Martin Luther King, Jr.'s leadership, and helped to organize the Southern Christian Leadership Conference to strengthen King's leadership; Rustin promoted the philosophy of nonviolence and the practices of nonviolent resistance, which he had observed while working with Gandhi's movement in India. Rustin became a leading strategist of the civil rights movement from 1955 to 1968. He was the chief organizer of the 1963 March on Washington for Jobs and Freedom, which was headed by A. Philip Randolph, the leading African-American labor-union president and socialist. Rustin also influenced young activists, such as Tom Kahn and Stokely Carmichael, in organizations like the Congress on Racial Equality (CORE) and the Student Nonviolent Coordinating Committee (SNCC).
The barometer for judging the character of people, in regard human rights, is now those who consider themselves gay, homosexual, lesbian. The judgment as to whether you can trust the future, the social advancement - depending on people - will be judged on where they come out on that question.
Bayard Rustin
Despite shunning from some civil rights leaders,
[w]hen the moment came for an unprecedented mass gathering in Washington, Randolph pushed Rustin forward as the logical choice to organize it.
A few weeks before the March on Washington for Jobs and Freedom in August 1963, Senator Strom Thurmond railed against Rustin as a "Communist, draft-dodger, and homosexual," and had the entire Pasadena arrest file entered in the record. Thurmond also produced a Federal Bureau of Investigation photograph of Rustin talking to King while King was bathing, to imply that there was a same-sex relationship between the two. Both men denied the allegation of an affair.
Rustin was instrumental in organizing the march. He drilled off-duty police officers as marshals, bus captains to direct traffic, and scheduled the podium speakers. Eleanor Holmes Norton and Rachelle Horowitz were aides.
Despite King's support, NAACP chairman Roy Wilkins did not want Rustin to receive any public credit for his role in planning the march. Nevertheless, he did become well known. On September 6, 1963, Rustin and Randolph appeared on the cover of Life magazine as "the leaders" of the March.
After the March on Washington, Rustin organized the New York City School Boycott. When Rustin was invited to speak at the University of Virginia in 1964, school administrators tried to ban him, out of fear that he would organize another school boycott there.
After the passage of the civil-rights legislation of 1964–65, Rustin focused attention on the economic problems of working-class and unemployed African Americans, suggesting that the civil-rights movement had left its period of "protest" and had entered an era of "politics", in which the Black community had to ally with the labor movement. Rustin became the head of the AFL–CIO's A. Philip Randolph Institute, which promoted the integration of formerly all-white unions and promoted the unionization of African Americans. Rustin became an honorary chairperson of the Socialist Party of America in 1972, before it changed its name to Social Democrats, USA (SDUSA); Rustin acted as national chairman of SDUSA during the 1970s. During the 1970s and 1980s, Rustin served on many humanitarian missions, such as aiding refugees from Communist Vietnam and Cambodia. He was on a humanitarian mission in Haiti when he died in 1987.
Rustin was a gay man who had been arrested for a homosexual act in 1953. Homosexuality was criminalized in parts of the United States until 2003. Rustin's sexuality, or at least his embarrassingly public criminal charge, was criticized by some fellow pacifists and civil-rights leaders. Rustin was attacked as a "pervert" or "immoral influence" by political opponents from segregationists to Black power militants, and from the 1950s through the 1970s. In addition, his pre-1941 Communist Party affiliation when he was a young man was controversial. To avoid such attacks, Rustin served only rarely as a public spokesperson. He usually acted as an influential adviser to civil-rights leaders. In the 1970s, he became a public advocate on behalf of gay and lesbian causes.
Mr. Rustin was survived by Walter Naegle, his partner of ten years.
"We need in every bay and community a group of angelic troublemakers."
― Bayard Rustin
On November 20, 2013, President Barack Obama posthumously awarded Rustin the Presidential Medal of Freedom.
(*http://en.wikipedia.org/wiki/Bayard_Rustin*)