There have been a lot of AMAZING posts during this
HAH/T
(I'm #10 on the list of like 260). Many people, bloggers and those who commented on the blogs, shared stories of homophobia/transphobia, bullying. We shared our disappointment in the past, the change we see in our present, and our hope for our futures.
So what now?
The hop is ending, how do we go forward from here?
What's our next step?
Well, we never stop talking about it. We never stop blogging about it. Oh, we'll resume our regularly scheduled programming. Authors bringing you books and teasers, interviews with their characters, updates on their WIPs. Reviewers bringing you reviews for said books. Bloggers blogging about their life, their love, their struggles and pain. Life will continue and the world will keep spinning.
But maybe, just maybe, one person was affected. Maybe one person was so touched by a post that it brought a change to their life, to their household, their job. Maybe someone read a post who never took a stand against homophobia/transphobia who will do so now. Maybe someone read a post who was afraid to come out because they were uncertain that they would have true support and now they see just how many people are in their corner.
Maybe this hop saved a life.
We'll never know unless you tell us. Unless you share it with us. And no, I'm not delusional in thinking that this hop could have saved a life (I'm delusional about marrying John Barrowman AND Shemar Moore one day, but not about this), I'm hopeful. Optimistic.
Realistic.
Because I know that one person can save a life.
One blog.
One post.
One survivor telling another victim that they can survive.
Last night I found out that the NAACP has decided to endorse same sex marriage (you can read the article here:
The NAACP Endorses Same Sex Marriage
). I was shocked. I was excited. I virtually collapsed onto the floor (which means I told the person who told me that I'd collapsed onto the floor but didn't literally do so). Being transgender and/or gay in the black (African/American) community is not only taboo, it's dangerous and taboo and dangerous and condemned. Black comedians condemn gay men on an almost daily basis (
Warning: Some of these links may trigger some readers, read articles and watch videos cautiously
) (
Tracy Morgan's Homophobic Rant
,
Jamie Foxx Jokes About Meeting Prince and being a F**
) whereas other black stars and pastors react negatively to being gay or having a gay child (
NFL player David Tyree on Gay Marriage
,
The Root Magazine Discusses Black Homophobia
,
Black Pastors Oppose Same Sex Marriage
,
T.I. Supports Tracy Morgan's Homophobic Jokes
).
Yes, Tracy Morgan, Jamie Foxx and T.I. apologized and now say that they support gay marriage and they have no problem with gays but in the black community homophobia is alive and well.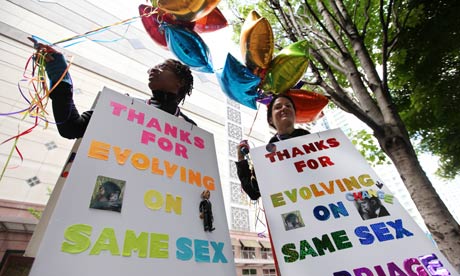 However, with this latest development, with the NAACP supporting same-sex marriage, a tide is turning in the black community. Maybe, just maybe, change is actually coming. Maybe our dream of one day having a hop for the day homophobia/transphobia ended is not that far fetched.
Maybe one day, and one day soon, same-sex marriage will be passed on a federal level as well as rights for transgenders.
We can hope.
We can keep talking about it.
We can keep fighting against homophobia and transphobia.
So going forward, our eyes are open, we are more aware, more educated and we see the large group of people supporting us and we know that we are not in this fight alone.
By jove, it really does get better!
-Vicktor Alexander
*It's the last day for you to leave comments on the blogs to be entered for the contests. Tonight names and email addresses will be pulled. Have you gone to the Official Hop Against Homophobia blog page and visited all of the blogs to leave a message? Over 250 blog posts have gone up over this past weekend. Did you read them? Did you comment? Did you get involved? Did you stand up for something?*