So I was talking with a friend last night....or was it this morning? Well, whenever it was, we were talking and we started talking about really sexy men. We talked about Adam Lambert and I introduced her to B. Scott (who I think is a rockstar. He is OH SO GORGEOUS!), who makes me have all manner of naughty thoughts all I can think about is his hair, my strap-on, my fist in his hair.........*clears throat and blinks* Wait where was I?
Oh yeah! So I asked her if she knew who John Barrowman and David Tutera were. She said "No." This seems to be the general consensus among those that I have asked. John Barrowman plays Captain Jack Sparrow on "Torchwood." David Tutera is a wedding planner and has a show "My Fair Wedding with David Tutera" on WE Tv (I'm going to call him when my T-T-B-B and his husband can legally get married in their state. I already sent D.T. a tweet and asked him-LOL).
So since no one seems to know who they are I decided to introduce them to you:
John Barrowman: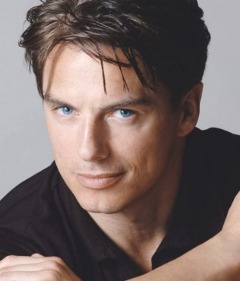 David Tutera:
And now you know who they are. YUM!!